(2015)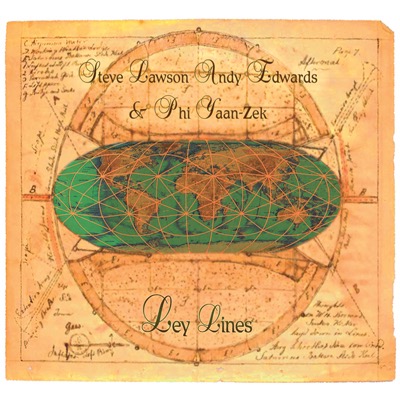 Starring:
Steve Lawson: bass guitar & looping
Andy Edwards: drums
Phi Yaan-Zek: guitar & additional keyboards
Description:
A truly inspired fusion album of exciting and electricfying live studio-based improvisation from three very different and distinctive musical voices.  This album encapsulates the best of both worlds: the joyful freedom, unexpected thematic evolutions and spontaneity of improvisation, with the cohesion of melodic hook, form and song structure coming from the inherent musical sensibilities of Steve, Andy & Phi.  Taking the best of these 2 days of studio-based creative alchemy, Phi then added a few extra guitar and keyboard layers to the mix, complimenting the surprisingly fully-formed arrangements that came out of these improvised sessions.  
Each of the trio brings their own wealth of experience, musicianship and personality to the mix, while also bringing out new elements from each other.  Steve Lawson, a innovator of the solo bass performance style, uses creative loops, extended chords, shredding overdriven bass leads, and a deep affinity with classic pop singer/songwriters to carve the foundations for the music and layer hook-laden riffs and melodies.  Andy Edwards (Robert Plant/IQ/Frost) who's much-coveted prog meets fusion drum chops, leads, feeds and synchronises with the evolving grooves, adding percussive innovation and the occasional head-scratching rhythmic warp.  Phi Yaan-Zek knows when to leave space, filling in the perfect amount of depth and atmosphere beneath Steve's flowing leads and melodies, yet when the music requires furiously tears it up with wild Jeff Beck meets Mahavishnu-era John McLaughlin style abandon, or weaves into the fold his own idiosyncratic melodic cascades, compelling chordal harmonies, intervallic lines and rhythmic twists.
The result brings to mind favourite moments from Billy Cobham's 'Spectrum', Herbie Hancock's 'Headhunters' and Miles Davis' 'Bitches Brew' in its initial set-up, but with the free morphing of styles that improvisation from this trio can give you.  It is this mult-genre set of skills from each musician that takes the music even further: Andy's dynamic drumming comfortably runs from classic jazz to prog-metal, Steve interchanges old school funk groove with state of the art bass-looping textures, while Phi mixes impassioned blues, legato runs and deep chordal passages into a most compelling musical statement.
'It feels like a direct descendent of our favourite records from the 70's, where no-one cared what the style or genre was, they were just playing exciting music as it came to them. And that's what we did here.'  

Steve Lawson December 2014