With Marco Minnemann (2012)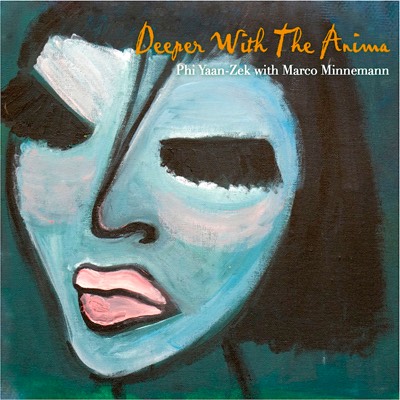 Starring:
Marco Minnemann - drums
Lalle Larsson - keyboards
Phi Yaan-Zek - all guitars, bass, additional (easy) keyboards, percussion & voices
With Special Guests:
Bryan Beller - bass 
Ola Olsson - trumpets & flugelhorns 
Gary Compton - harmonica 
Amandine Ferrari - choral vocals 
Tristan D. Rastaflange the Third - double bass 
And The Elves Of Richmond Park - additional vocals 
And featuring remixes by: 
T-Boy, Cafe Del Marlborough & Luke Bedi
Description:
'Deeper With The Anima' is the companion album to 'Dance With The Anima' but this time with the musical emphasis focused into a beat-orientated guitar instrumental direction, which features new and extended pieces based on themes from the original album along with 3 exciting guest remixes. Rather than strictly following Marco Minnemann's Normalizer 2 drum solo as on the previous 'Dance With The Anima' CD, here the drums have been edited and rearranged to allow for new creative possibilities. The result is a passionate and unique journey that blends many stylistic elements such as the mysterious cinematic jazz of 'Mariana's Deeper Dive' to the intense augmented tribal hypershred insanity of 'The Shrine Of The Augmented Weave', to the fiery Piazzolla meets Al Di Meola meets Gotan Project style tango of 'Corazones En Fuego', to the otherwordly Zappa meets James Bond drum and bass anthem of 'Ecstasies Of The Starlight Self'.
Elsewhere on the journey there's a beautifully catchy summery acoustic guitar prog/fusion tune with more lyrical Di Meola/John McLaughlin style soloing ('Signposts 2'), an emotive and spacious solo guitar ballad in the spirit of Jeff Beck ('At Peace'), a John Barry goes West Coast 70s funk fusion piece held together with the sumptuous tone and phrasing of Bryan Beller's masterful bass playing ('Lovers' Tryst'), a John Coltrane/Pharoah Sanders inspired 4 minute guitar solo piece ('Love Abounds'), and many more inspiring groove-based tracks. With the foundation of many of the tracks having an electronica influenced flavour, the vibe of the 'Deeper…' is at times akin to Joe Satriani's 'Engines Of Creation' meets Jeff Beck's 'You Had It Coming' meets Ozric Tentacles, but still all very much cemented in the fusion-centric base of Phi's unique and progressive musical style. 
Reviews:
"It's the kind of progfusion that reflects on some of Zappa's more impressive musical moments, and also brings Zek's music into the future, with his own approach to playing, and musical creativity. There is a great array of musical genres at work here, and these guys are the kind of musicians that are constantly creating new subgenres by mixing and daring to do things that are as demanding as they are intriguing. Love this stuff, I am more than certain that "fusion a holics" should be required to own this cd, and it's predecessor, or all of Phi's stuff, Lalles' and Marco's for that matter. Crazy good music here, I don't find too many cds that I would recommend this highly for fusion fans, but this is can't miss stuff."  MJ Brady, Prognosis


"Some albums that last as long as Deeper With The Anima become hard work, but that is not the case with this delightful construct; a quite remarkable album and an inspiring take on fusion that never falls back on the sometimes prevalent clichés of that genre."  Roger Trenwith, DPRP


"Deeper With The Anima is an album of multiple contrasts and moods, richly textured and immaculately performed. This music is so varied and interesting you are never quite sure what the next track will bring... An album of contrasting moods and tones, excellent musicianship and some fine songwriting. Highly recommended for fans of jazz, fusion and progressive rock."  Jon Neudorf, Sea Of Tranquility