With Marco Minnemann (2010)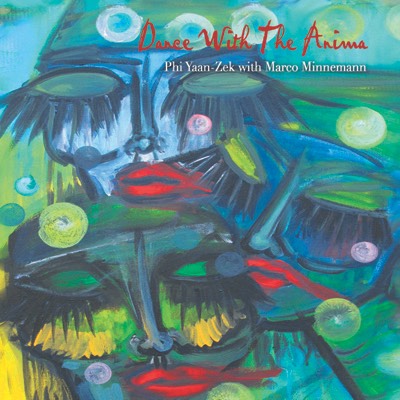 Starring:
Marco Minnemann - drums
Lalle Larsson - keyboards
Phi Yaan-Zek - all guitars, bass, additional (easy) keyboards, percussion, chants, voices & primal screams
And featuring:
Ola Olsson - trumpets & flugelhorns
Gary Compton - harmonica & additional primal screams
Amandine Ferrari - choral vocals
The Elves Of Richmond Park - additional vocals
Description:
A mesmerizing 'film score' style album of dazzling old-school fusion vibes, 60's cinematic themes, epic progressive rock melodies, gypsy jazz, dramatic classical moods and psychedelic guitar virtuosity skilfully composed to Marco Minnemann's live unedited 51 minute 'Normalizer 2' drum solo. At times, it's as if John Barry and Frank Zappa had collaborated on the surreal soundtrack to a richly orchestrated guitar adventure. Also featuring the musically dynamic and spellbinding playing of keyboard virtuoso Lalle Larsson (Karmakanic, Agents Of Mercy) who joins Phi as a fellow soloist and star performer of challenging musical parts. 
This CD is part of Marco Minnemann's Normalizer 2 series of releases which also includes albums by Mike Keneally, Trey Gunn, Alex Machacek, Jason Sadites, John Czajkowski, Mario Brinkmann & Marco himself.  Each album features the same unedited drum tracks but with totally different music composed and recorded over the top! More information about the Normalizer 2 series can be found here:
Reviews:
"So complex, so beautiful, so brilliantly performed and written. You have to hear it to believe it, it's kind of like what one might expect the great FZ to be doing if he were alive today."  MJ Brady, Prognosis

"... a rollercoaster ride of creativity and activity.... a wonderfully unpredictable record."  Leslie Connors, Jazz Times

"Dance With The Anima is a great effort and a pleasure to listen to. It is not your every day music and certainly a little hard to digest on first play, but once it wins you over, you're hooked. Excellent freestyle music.... Phi Yaan-Zek's effort is a must-have album for those among us that love the more jazzier, freestyle music. Believe me it is absolutely awesome music."  Gert Hulshof, DPRP

"The keyboards from Lalle Larsson (Agents of Mercy) are a fantastic addition to this version of the Minnemann compilation CDs. Phi Yaan-Zek's guitar work is amazing and completely different. Each of these mini instrumentals is unique and brings a new ambiance and sound to the whole production."   Mark Johnson, Sea Of Tranquility